DV Battery
Lithium Ion Battery for Camcorders
XD-68VBD/ XD-96P / XD-96J / XD-65VBD / XD-130VBD
For Panasonic VW-VBD58, CGA-D54S / JVC SSL-JVC50/75
Voltage: 7.4V
Capacity: 6800mAh/6600mAh/9900mAh/13200mAh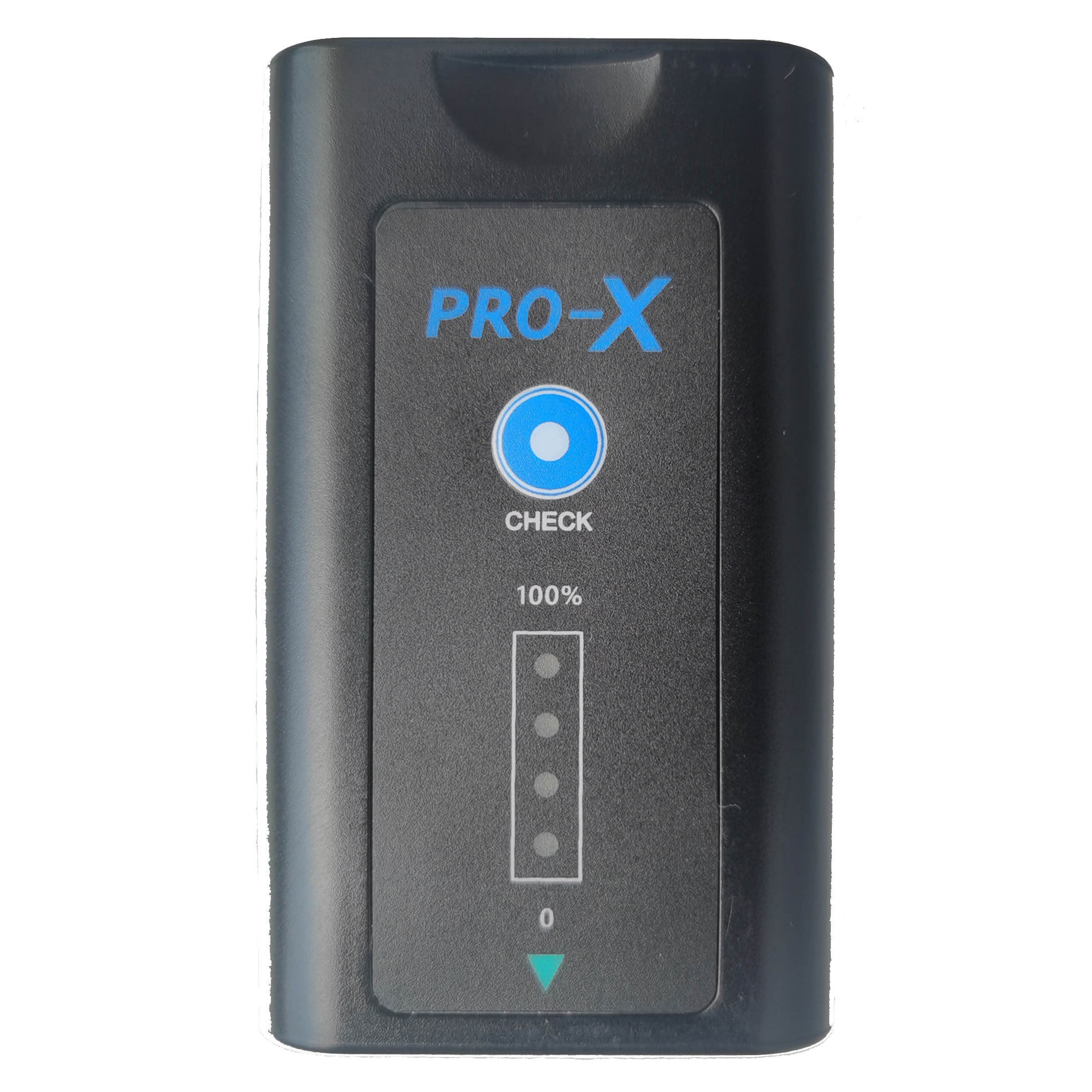 Model
XD-96P
XD-96J
XD-65VBD
XD-130VBD
XD-68VBD
Voltage
7.4V
7.4V
7.4V
7.4V
7.4V
Capacity
9900mAh
98Wh
6600mAh
13200mAh
6800mAh
Compatible Battery

Panasonic

CGA-D54S

JVC SSL-JVC50/75

Panasonic

VW-VBD58

Panasonic

VW-VBD58

Panasonic

VW-VBD58

Applicable Cameras

Panason AG-DVC180/

AG-HVX203

JVC GY-LS300,GY-HM200

GY-HM170,JY-HM360

GY-HM606,GY-HM660

GY-HM610K,GY-HM150MC

GY-HM600MC,GY-HM650MC

GY-HMQ10E,GY-HM600KX

Panasonic AJ-PX270, AJ-PX298,

AG-DVC30, AG-DVX100/200, AU-EVA1, HC-X1000

Panasonic AJ-PX270, AJ-PX298,

AG-DVC30, AG-DVX100/200, AU-EVA1, HC-X1000

Panasonic AJ-PX270, AJ-PX298,

AG-DVC30, AG-DVX100/200, AU-EVA1, HC-X1000

Weight
0.33kg
0.45kg
0.25kg
0.45kg
0.2kg
4-stage LED Power Gauge
All DV batteries have a 4-stage LED Power Gauge so you can quickly reference the charge status of the battery in 25% increments.
USB
USB port outputs standard DC 5V which can be used to power mobile devices.
P-Tap (14.8V/7.4V)
All PRO-X brick batteries have an incorporated D-Tap port so you can power virtually any 12V/7.4VDC device.Those who have cameras which limit the current output to the onboard port can now simply tap into the battery.