Travel Charger
Travel Charger for Lithium Ion Battery
DC-2LJ / SP-2LJ / GP-LS / GP-LA
Charge Positions: 1/2
Model

Charge

Positions

Input

Voltage (V)

Output

Voltage (V)

Current (A)
Mount Type

Power Supply

Output (W)

Size (inch)
Weight (kg)
DC-2LJ
2
DC 9-28
DC 16.8
1.5/3.0
P-Tap
—
2.2 x 4.8 x 0.8
0.15
SP-2LJ

AC 90-240

50/60Hz

DC 14.8

1.0 (1battery)

2.0 (2battery)

P-Tap
—
5.3 x 2.5 x 1.3
0.4
GP-LS
1
2.0
V Type

90

60 (While Charging)

6.5 x 4.5 x 2.3
0.9
GP-LA
3-Stud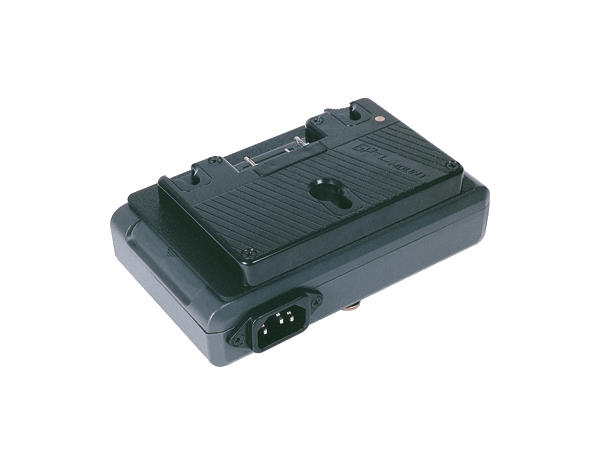 GP-LA
PRO-X offers GP-LA (3-Stud interface) with the same features as GP-LS.
3-Stud interface can be installed on the back of the compatible camera directly as a power supply; it also doubles as a charger charging PRO-X 3-Stud Mount Li-ion batteries.
GP-LS
Single position charger includes a 90w 12vdc Camera Power Supply.
Max DC Output: 90w, 60w(while charging) Combines all the features of a single position charger with the ability to act as an on-camera power supply simultaneously.
When a battery is mounted, the GP-LS offers continuous power even if AC is interrupted.
Includes LED charge indication and a built -in 4P XLR output.
GP-LS can charge MOST V-Type batteries of other manufacturers.
SP-2LJ
An economical solution to full featured charging, the SP-2LJ charger will safely charge two PRO-X batteries via P-Tap port on the battery.
Its compact design and LED charge indication makes it the perfect solution to those on a budget.
DC-2LJ
DC-2LJ is designed to charger the battery in the place where there is only DC power supply. It supports multiform DC input like cigarette lighter, solar panel etc.
DC-2LJ uses GX16-X port which can support various DC input connector matching with various adapter cables.(Cigarette) lighter,ø3,ø2.5,PPT plug etc)