PowerBase
Extended Runtime for HDV/DSLR
GP-DV-S / GP-DV-P / GP-DV-C / GP-EX-S / GP-DV-CH / GP-DV-GH4 / GP-DV-BMCC / GP-DV-BMPCC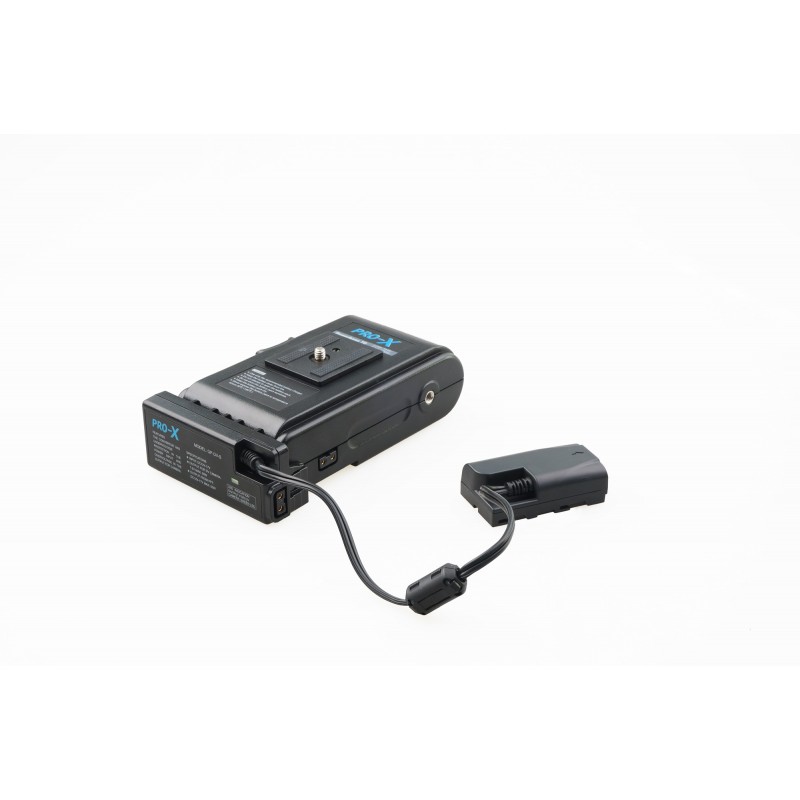 | | | | | | | | | |
| --- | --- | --- | --- | --- | --- | --- | --- | --- |
| Model | GP-DV-S | GP-DV-P | GP-DV-C | GP-EX-S | GP-DV-CH | GP-DV-GH4 | GP-DV-BMCC | GP-DV-BMPCC |
| Output Voltage(V) | 7.2 | 7.2 | 7.2 | 12-17 | 7.2 | 7.2 | 12-17 | 12-17 |
| Compatible Camcorders | SONY NEX-FS100, HVR-Z7U, HVR-HD1000U, HVR-V1U, HVR-Z1U, HDR-FX1, VX2000/2100, PD100/150/170 | Panasonic DVC7, DVC10, DVC80, DVX100/ 100A/100B, HVX200/200A, AG-HPX170 | Canon XF305/300, XH-A1/G1, XL-1/1s, XL-2, XL-H1/H1a/H1s, GL-1, GL-2 | SONY PMW-EX1, PMW-EX3 | Canon 5D Mark IV,5D Mark III,5D Mark II,6D,7D,7D Mark II,760Da,60D,70D,80D | Panasonic LUMIX GH4 | Blackmagic Cinema | Blackmagic Pocket Cinema |
7.2V / 14.8V DC Output
A faux battery or a plug to provide 7.2V/ 14.8V DC power for HDV/DSLR. PRO-X offers multi interfaces of faux battery for most of camcorders.
GP-DV-S/P/C/CH/VBG/BMCC/GP-DV-BMPCC/GH4
GP-EX-S
An interchangeable regulator block is able to supply both 7.2V and 12V (P-Tap) outputs.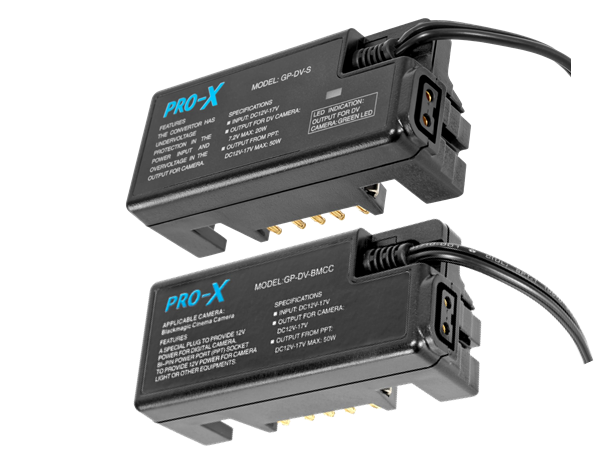 XP-L70V
The XP-L70V is a 77wh 14.8V lithium-ion battery pack providing extended runtime.
It mounts under the camera doubling as a grip or attached to a HDSLR support via it's 1/4-20 release plate or V-type mount.
For Panasonic Lumix GH4
For Blackmagic Pokect Cinema Camera
Extended Runtime for HDV/DSLR